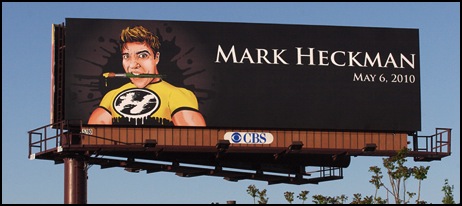 As an artist, Mark Heckman employed methods that disproved the conventional perspective that art must possess the stamp of museum or gallery approval to be validated. Heckman believed that art has the responsibility, not just the power, to speak to the masses. His influence, as a result, reached far beyond any cultural "authority." It was the common person, in fact, to whom his work most commonly spoke.

There should be no surprise that the billboard canvas was the preferred modus operandi for Heckman and his messages of social, political and environmental importance. Heckman's billboards bulleted the sky, like satirical salvos fired at social and environmental villains. His targets included racism, AIDS, and homelessness as well as recycling, deforestation, and the greenhouse effect. No issue was ever safe from Heckman's sights.

Featured in both Time and Newsweek by the age of 27, Heckman reveled in capturing the public's imagination by mixing elements of humor, hutzpah and Hollywood in his work. If his outlandish style occasionally landed him in hot water, it only served to shine the spotlight on the various villains and wicked wrongdoers targeted by his art.


Watch ABC News retrospective on Mark Heckman.